What Size Flag Do I Need?
Welcome to our new blog!  To kick it off, we decided to tackle some of our most commonly asked questions.  Let's talk flag size!  Over the years we have found that many people relate better to flag sizes as compared to common objects or household items.  We'll start small and work our way up.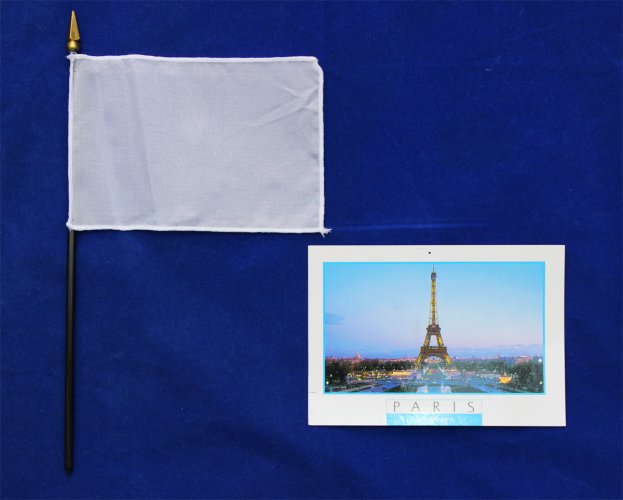 Our smallest flag size is our 4"x6" stick flags, also called table-top or hand-held flags.  The easiest way to envision these most portable of flags is as a post card on a stick.  If you have ever been to a Fourth of July parade, you've seen these flags being waved with much joy by children and adults alike.
The next two sizes of flags are easiest to explain using a standard sheet of notebook paper.  Our 8"x12" stick flag is the largest typically still found mounted on a stick.  Moving up from there is our 12"x18" flag.  This flag is roughly the size of two pieces of paper taped together along the longest edge.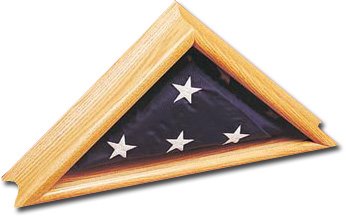 It then becomes a bit more of a challenge to describe the next set of flags and banners.  These items are all in the same general size range; that is 2'x3' or 2.5'x4' for flags and from 24"x36", 28"x40", or even up to 27"x37" for banners.  The average doorway in an American home may vary in size a bit, but are most commonly 30"x80".  These flags and banners, turned sideways, would fill about half of the doorframe.  That was quite a bit of effort, but hopefully helpful.
There is also a flag meant for use during the most solemn of circumstances.  The 5'x9.5' flag is the casket size flag.  If you are looking for a flag for a funeral or a memorial service or one to be folded up and put in a display case, this is the appropriate size flag for that use.
Often, what determines the size of the flag needed is the size of the pole it will be flown upon.  Let's start with the easiest to explain.  By far the most common size flag is the 3'x5'.  This flag is found on most house poles and in-ground poles up to 20' in height.  A good visual of the flag size is to base it off your height.  Did you know that your arm span (from finger tip to finger tip) will equal your height?  If you know how tall you are, you can stretch out your arms and adjust a bit to get an idea of how long the 5' flag is.
Most house poles are 5 or 6 feet in height, and because of the angle, you can still use a 3'x5' flag.  In fact, that is usually the size flag that will come with most house pole flag sets or kits.  Some people discover that the 3'x5' flag size is too big for their particular location and will opt to fly a 2.5'x4' or a 2'x3' instead.  These sizes work fine and are perfectly acceptable on this size pole. 

It is once the pole size increases above the aforementioned 5 or 6 feet height that certain sizes of flags become inappropriate.  For a free-standing pole/flag set that you want to stand upright, either inside or outside, you will not be able to use a 3'x5' flag on anything shorter than a 7 foot pole.   It is very common to see 3'x5' flags with 7 or 8 foot poles and 4x6 flags with 9 foot poles.  Using the same "arm span" method of estimation we used earlier, it is easy to envision the 4'x6' flag.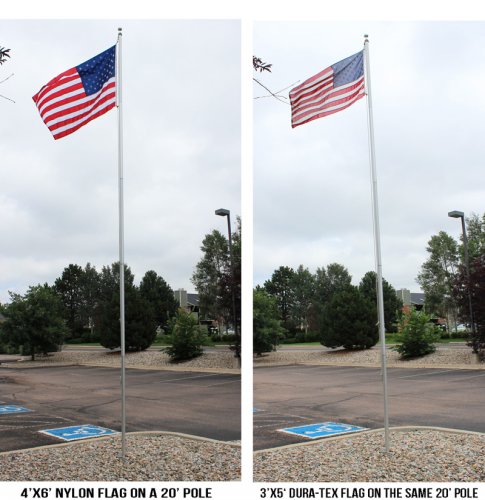 For large, in-ground poles, the actual height of the pole will determine the size of the flag you will need.  Take the total above-ground height of the pole and divide it by 3 or 4.  That number is the size of the longest part of your flag.  For example, a 20 foot pole can fly a 3'x5' flag or a 4'x6' flag (20 divided by 3 is 6.6 or divided by 4 is 5). In this case, your choice is a matter of personal preference and the manufacturer's recommendations.  If you opt for a flag outside the parameters provided, you will notice the flag looking either too small or too large for the pole.  A flag that is too small is visually displeasing.  A flag that is too large for the pole will put unnecessary stress on the pole that can lead to problems as time goes on.  Below is an image showing both a 3'x5' flag and a 4'x6' flag on the same 20' pole…both are perfectly acceptable.
These guides can be of assistance as you contemplate the flag size you need.  However, we are always available to discuss your needs with you to ensure that the perfect flag flies at your home or business.  Never hesitate to call us for a personalized consultation!
Flag Size